Summary: The UK national health service has been a highly regarded and popular model of public financing and ownership of health services. That is, until the British government fostered privatization and, during Conservative rule, imposed austerity budgets. It can still be saved.
You Don't Have to Be a Doctor to Know How Much Trouble the N.H.S. Is In
The New York Times
March 17, 2023
By Allyson Pollock and Peter Roderick
You don't have to work in a hospital to know that Britain's N.H.S. is in the most serious crisis of its history; you just have to be injured, or ill. And hundreds of thousands of people have had a doctor's referral for outpatient care at a hospital rejected because there are no available appointments — they are simply bounced back to the doctor to begin the process again.
That the flagship health care service of one of the wealthiest countries in the world is in such a state is shocking, but not without explanation. Decades of marketization, 10 years of Conservative austerity and a pandemic have hollowed out the N.H.S. so much that people who can afford to, and increasingly those who can't, are having to pay for health care.
A two-tier system with more and more in common with American health care is taking shape. It's not working, and we'll soon be at the point where it's too late to do anything about it.
The damage to the N.H.S. was inflicted in three main waves.
In the late 1980s and early '90s, a Conservative government introduced the internal market and closed long-stay hospitals — where care was free — under the euphemistic banner of "care in the community." Private nursing homes backed by equity investors took over provision for older people, and care became chargeable and means-tested.
In the late 1990s and early 2000s, Labour, under Tony Blair, built dozens of new hospitals with money from partnerships with private investors.
In 2010, the Conservatives, back in power — alongside the Liberal Democrats until 2015 — embarked on a decade of austerity.
The cumulative effect was devastating.
But people are also tired of waiting — or not able to wait — and more and more are paying for private treatment.
People are reportedly taking out loans to pay for operations and, in a development that will be familiar to Americans but is something quite new in Britain, more and more people are turning to GoFundMe to raise money for medical treatment.
The government has done plenty to encourage this shift: In 2012, the Conservatives increased the cap on what percentage of an N.H.S. hospital's income could come from treating private patients to 49 percent.
What we do know is Britons who want to use the N.H.S. are finding it increasingly hard to do so.
The N.H.S. as Britons have known it — accessible, free at the point of use, cherished — is becoming something else. But as long as there are still people willing to fight for it, it's not too late to save it.
Allyson Pollock in 2014 video raising alarm on NHS privatization: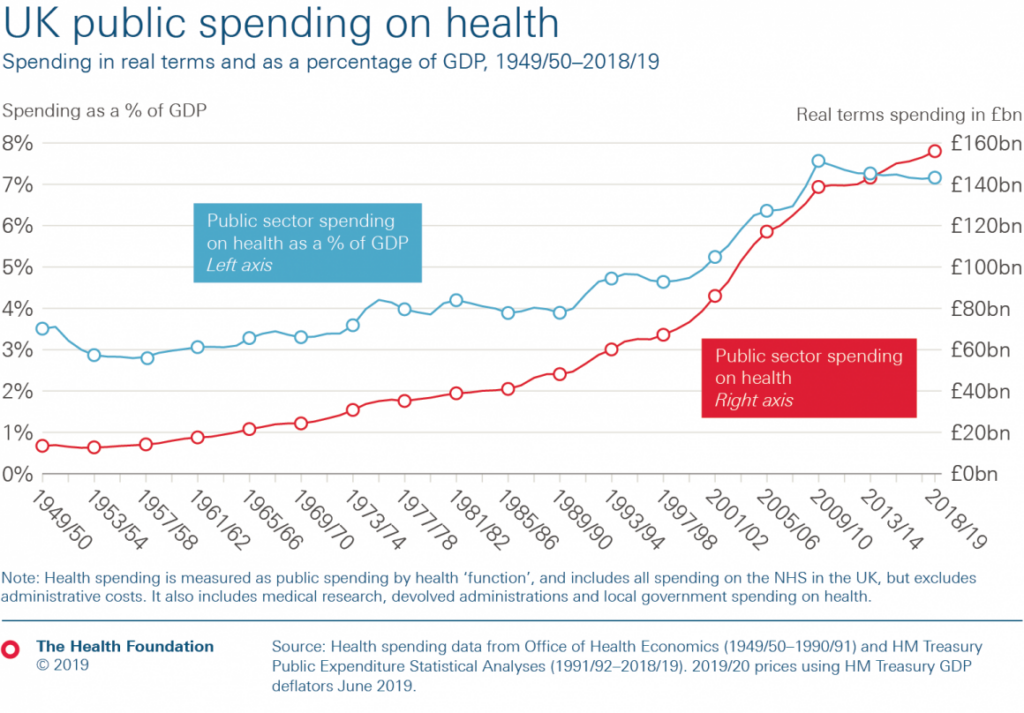 From here.
Comment by: Don McCanne & Jim Kahn
For many decades, those of us in the policy community interested in health care justice for all have greatly admired the British National Health Service as it was founded as a cherished health care system, accessible to all, and free at the point of service.
In the meantime, we established a public insurance program for seniors – Medicare – and many of us have supported policies to improve that program and expand it to include everyone. Instead, we are well on the path to total privatization of the Medicare program as it has deteriorated. Uninsurance and underinsurance permeate our system, costs have gone up, medical debt and personal bankruptcy are increasing, many are left without the health care they should have, and the increased spending of our health care dollars has been moving into the coffers of the billionaires. The government has not been listening to us in the policy community who can provide the solutions to our health care injustices.
Today's article tells a really sad story because we should have been learning from the British model and applying it to our system. The British, of course, had demonstrated how much more effective the government was than the private sector, whereas we increased the role of the private sector resulting in the higher costs and deterioration of our system.
A co-author of today's article, Allyson Pollock, has been a leader in the British policy community, and has issued warnings that they should not follow privatization schemes such as we have in America. Their political leaders did not listen either. As seen in the figure above, the needed growth in health spending as % of GDP was reversed starting in 2009, starving the system. Just as in the United States, it was not just the conservatives, but it was the neoliberals as well, as they followed a path more like ours instead of us following theirs. This brief report shows what a disaster it has been.
WAKE UP AMERICA! PRIVATIZATION IS WELL ADVANCED RIGHT NOW, BUT WE CAN REVERSE IT. WE CAN HAVE HIGH QUALITY, AFFORDABLE HEALTH CARE FOR ABSOLUTELY EVERYONE. BUT WE ARE GOING TO HAVE TO BRING THE POLITICIANS IN COMPLIANCE. DARE I SAY THEY MIGHT BEGIN THEIR CONVERSATION WITH BERNIE SANDERS?