Summary: Recently we reported on a national survey of medical debt. A new report uses credit bureau data to describe which local factors predict high levels of medical debt in collections. They are: being in the South, % of population with 4 or more chronic medical conditions, % low birth weight, % uninsured, % Black, low average income, and high medical spending.
Which County Characteristics Predict Medical Debt?
Urban Institute
June 15, 2022
Fredric Blavin et al
Medical debt is a critical challenge to Americans' financial stability and well-being. We use unique Urban Institute credit bureau data on more than 10 million consumers to investigate (1) where people are more likely to have medical debt in collections and (2) which county-level socioeconomic and health characteristics predict medical debt. We find that 79 out of the 100 counties with highest levels of medical debt in collections are in states that have not expanded Medicaid under the Affordable Care Act. These counties are mostly concentrated in Georgia, North Carolina, and Texas. We also find that a county's prevalence of chronic conditions is the strongest predictor of medical debt in collections. In addition, counties with high shares of uninsured, low-income, or Black populations have higher rates of medical debt in collections. We offer a few insights on policies that can reduce medical debt, such as Medicaid expansion and consumer protections through the No Surprises Act.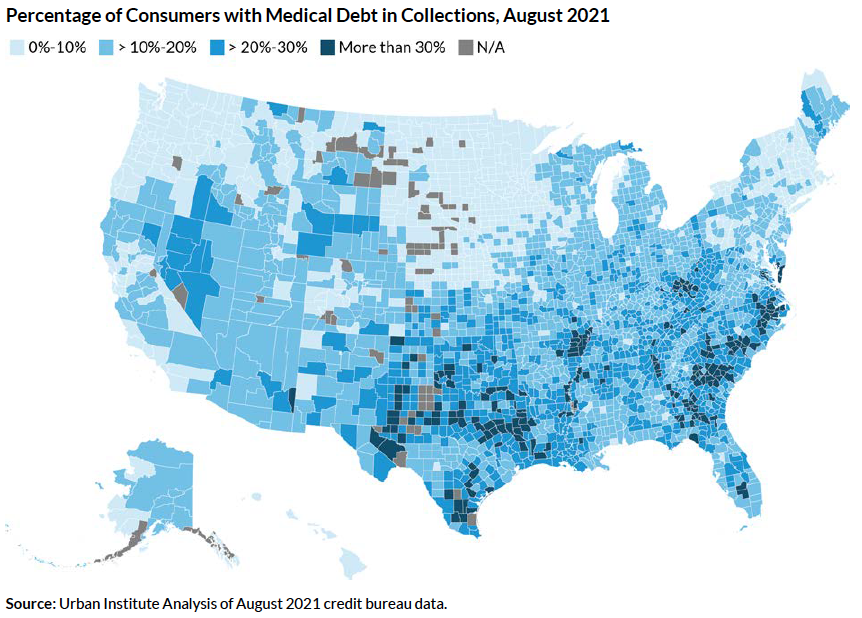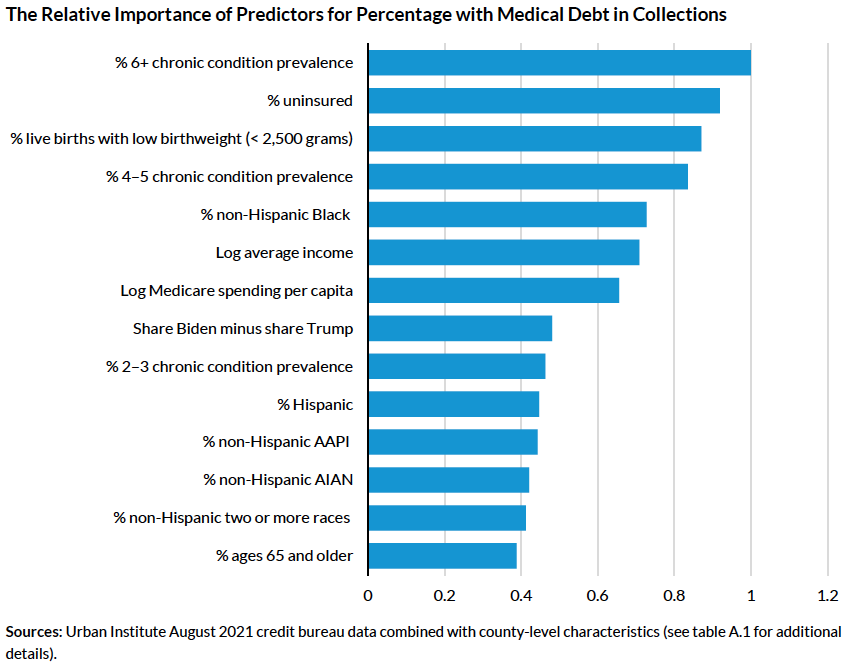 Comment by: Jim Kahn
Black spots on the US map indicate that >30% of consumers have medical debt in collections. Not just medical debt, but in formal collections processes. Darker blue areas are at 20-30%.
Predictors include high rates of uninsurance, and related to that living in states with no ACA Medicaid expansion. Also the usual markers of vulnerability: % sick with multiple chronic conditions, % low birth weight, % low income, and % Black.
What is wrong with our country that we waste >$600 billion yearly on administrative complexity and profits for a fractured insurance system that torments the most vulnerable among us with financial problems related to getting medical care? We stand alone among wealthy countries in this cruelty.
Our health care financing system is a massive failure — inefficient, unkind, and deadly. No tweaks will fix its fundamental problems. How much clearer could that be?
We must find a way to transform today's crises into a health system and country we can be proud of.